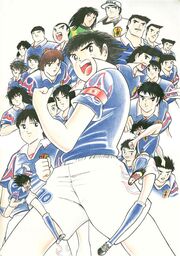 Battle of World Youth (BWY) is the fourth story arc of the storyline of the Captain Tsubasa series, which covers the events after the "J Boys' Challenge" arc (the end of the original manga series). The name was first used in the 2006 Shueisha Jump Remix (SJR) version of the manga, where the story arcs where divided in a clearer way.
BWY covers the manga Saikyo no Teki! Holanda Youth and World Youth Hen, as well as the chapters from the manga adapted to the anime Saikyo no Teki! Holanda Youth and Captain Tsubasa J.
Plot
[
]
Netherlands Youth arc

[

]
N/A
Soccer Cyborg Santana's Chapter

[

]
Prologue

Within Santana's past lies a very dark obstacle that he must overcome - he didn't have a family. The owner of Bara FC, Barsole Bara, decided to adopt him. However, Bara never considered Carlos as his son. He imprisoned Carlos in the cellar of the clubhouse and forced him to undergo a severe training of 24 hours per day. In the hands of the coaches and the cruel Bara, Carlos became a Soccer Cyborg, without human's emotion. He even had to forsake the friendship with Luciano Leo and the others in order to protect them from Bara; therefore, his only remaining friend is a soccer ball.
Carlos only regained his freedom and retrieved the name Carlos Santana when he was 17, with the help of everyone who loved football in Brazil, after he told everything about his origins and his life with Bara in a joint press conference. Despite that, his heart was frozen, and he still kept his emotionless football - Carlos Bara's football.
Sao Paulo vs Flamengo
Tsubasa leaves Japan for Brazil, and starts playing, with his mentor Roberto as the manager, for São Paulo, in Brazil's premier professional league, Campeonato Brasileiro Série A, winning the final against Flamengo, 4-3. While in Brazil, Tsubasa gets to meet several talented Brazilian players, such as his teammate and roommate Pepe, who comes from humble backgrounds to become one of the primary playmakers in the squad along with Tsubasa, and Flamengo playmaker Carlos Santana, a prodigious talent.
The match that will decide the champion of the Brazil National Championship is between São Paulo FC and CR Flamengo. São Paulo quickly open the score with Tsubasa's Overhead Kick. As soon as the match resumes, Santana begins to dribble on his own. He easily gets past Tsubasa with his Santana Turn and then scores with a superior technique compare to Tsubasa's, the Rolling Overhead Kick. Just before the end of the first half, Tsubasa attempts to use the Santana Turn to gets past its own creator, but Santana defends with a counter overhead. Despite this, Flamengo quickly lose the ball, allowing Tsubasa to score an additional goal with his new technique, the Flying Drive Shot.
As Flamengo returns to their waiting room, Santana says if everyone wants to win, just give him the ball in the second half. His teammates don't take that very well, however, and refuse to pass to him. This doesn't turn out well, as São Paulo easily take the ball and Tsubasa achieves his hat-trick by kicking the repelled ball after Flamengo keeper deflects his grounder shot done with the left leg.
Flamengo's coach decides to put Leo in after that. With the help of Leo, Santana manages to equalize, again with superior techniques - a No Trap Flying Drive Shot from farther away and a Golden Eagle Shot done with the left leg. Santana does not smile even though he achieved hat-trick, and this makes Tsubasa say he will teach Santana that football is enjoyable.
Santana takes the ball from São Paulo, but sends it to Tsubasa after that, wanting Tsubasa to do what he just said. They have an overhead duel in the air after Tsubasa's Heel Lift. Santana is able to push back Tsubasa, but the latter manages to do a backpass before touching the ground, and then has the ball returned to him. Santana tries a tackle, but Tsubasa falls and it is judged as a foul. São Paulo is awarded a free kick. Tsubasa does a Flying Drive Shot, but Santana perfectly traps it. He then says it's his turn to teach Tsubasa the severity of football.
Once again, Santana starts dribbling forward, but this time with power. As Santana's teammates finally follow him, Santana humiliates Tsubasa by making a through pass from kicking the ball at the latter's tackle. São Paulo is forced to make a foul, and from the awarded free kick, Santana manages to trick most of São Paulo's players with a Golden Eagle Shot. Tsubasa blocks the shot, but Santana immediately rushes towards the repelled ball and shoots right in front of Tsubasa, destroying the three misangas representing his three wishes on his wrist. The ball hits the crossbar, and Santana jumps for an overhead, but Tsubasa defends with a Face Block, then does a pass forward.
The ball is returned to Tsubasa, and Santana goes after him. Santana does a shoulder charge, making Tsubasa fall, however Tsubasa makes the ball spin right at that moment, therefore the ball goes back to him again. Tsubasa does a backpass to Leandro who immediately shoots, but Santana clears it. However, Tsubasa jumps and shoots at the cleared ball, scoring the winning goal.
Leo then tells Santana that the emotionless football of Carlos Bara won't be able to win against Tsubasa, and he has to retrieve Carlos Santana's football, playing with the love for football, excitement and trust, which is what Tsubasa just did in the match. Realizing that he is not alone like he used to be, Santana's once frozen heart is melted, and he is finally able to abandon Carlos Bara's football club.
Aoi in Italy
[
]
Campionato Primavera 1 tournament arc
Enthusiastic football-loving youngster Shingo Aoi, whom Tsubasa once played against while in the high school national championships, leaves Japan to play football in Italy, where he hopes to play for a major Italian professional team. After arriving in Italy, however, Shingo gets tricked by a man who gives him fraudulent promises of getting him selected for an Italian team, but after Shingo is taken to a badly-furnished field, the man runs away, stealing all his money in the process. Shingo realizes that he is swindled, and tries hard to get his money back, doing such jobs as shoeshining, and his enthusiastic attitude catches the eye of one of the coaches of one of the local teams, Inter Milan, who sign him to play for their squad as an attacking midfielder.
Asian preliminaries arc
[
]
The Japan's youth side plays the first phase of AFC Youth Championship without Taro Misaki, Makoto Soda, Hiroshi Jito, Shun Nitta, the Tachibana twins and Kojiro Hyuga. After Tsubasa, Wakabayashi and Shingo join the team, they manage to defeat Thailand 5-4 after being led 4-1. In the second phase Japan beats Uzbekistan 8-1, UAE 6-0, China 6-3 and Saudi Arabia 4-1. In the semifinals Japan beats Iraq 3-0. The Japanese win the Asia Youth title beating South Korea 2-0 and qualifying for the FIFA World Youth Championship.
Later, Santana arrives in Jakarta to witness the play of Tsubasa, who he considers his eternal rival. He and Pepe agrees that Japan seems to get stronger after every fight.
In the first phase Japan defeats Mexico 2-1, Uruguay 6-5 and Italy 4-0. In the quarterfinals, they beat Sweden 1-0 and Netherlands 1-0 in the semifinal. The Japanese win in the "Great Final" the World Youth Championship, defeating Brazil 3-2 after extra time with Tsubasa scoring a hat-trick and the golden goal despite the fact that Brazil used a new player at the extra time called Natureza, who became the third person to score a goal on Wakabayashi from outside the penalty area[1].
World Tournament Finals
During the final match against Japan, the first time Santana gets the ball, he does consecutive Santana Turns to easily get past both Hikaru Matsuyama and Jun Misugi, and then follows with a Rolling Overhead. However the shot is perfectly caught by Genzo Wakabayashi.
After 20 minutes, Santana and Leo decides that they'll go for real. Their Vertical Combi Play sets up a perfect goal chance for Santana, who attempts to do a Rolling Arrow Jumping Overhead. This time, Tsubasa comes back to blocks the shot, and does a long pass forward to Kojiro Hyuga, whose Raiju Shot is caught by Salinas. Santana does a Skywing Shot, the very same shot as Hyuga's Raiju Shot right as he gets the ball, but Wakabayashi catches it just like Salinas did.
The first half ends 0-0. When the second half begins, Santana is irritated as he sees the Japanese players, who couldn't do anything but defend in the first half, smiling. At the 59th minute, Santana notes that if Tsubasa can enjoy such a defensive football, then he's not Santana's rival anymore. He along with Leo and Pepe performs a combi play after that, which gives Santana a chance to shoot, and Santana manages to scores with 2 successive shots.
In the next play, Santana takes the ball from Taro Misaki, who just enters, defeating Japan's Golden Combi. He then dribbles, and as Tsubasa is chasing him, he tells Tsubasa that the latter's original special move, the Sky Dive Shot, is completely wrong, while all the other moves are given to him by Roberto, therefore Tsubasa is just a puppet manipulated by Roberto, and has no chance of surpassing his mentor. Tsubasa, greatly shocked, stops pursuing Santana, and the latter then performs the Tornado Arrow Sky Wing Shot, the ultimate shot. The shot is stopped by Wakabayashi though, whose words help Tsubasa recover and later score the tying goal.
Japan reverse the score at the 88th minute. At that same time, Natureza, who Santana wants to meet earlier, enters. Santana tells Natureza to show them his god like techniques, and the latter indeed scores just after one minute. Natureza reclaims possession right as the match resumes, and the ball is then given to Santana. Santana gets past Matsuyama and Shingo Aoi with both technique and combi play with Leo, before doing a centering to Natureza. His first attempt is blocked by Ryo Ishizaki, but he quickly does a second centering in the air. Brazil is unable to score however, as Wakabayashi defends.
During extra time, Santana goes back and attempts to get the ball from Japan's sink or swim play, however Misaki beats him this time, despite his injury. Tsubasa eventually scores the V Goal for Japan. Santana still gains the title of the tournament's best scorer, however.
Right after the match, Santana is able to meet his birth mom again, thanks to Cario. He lives with her in Brazil after that.
Epilogue
[
]
While Kojiro Hyuga finally realizes his dream to play in Italy for Juventus FC, Tsubasa moves from Sao Paulo FC to FC Barcelona, in the Spanish La Liga, after the end of the U-20 World Youth Championship final. Then, Tsubasa takes his childhood friend and later girlfriend Sanae Nakazawa as his wife. He asked her out before moving to Brazil, and the couple maintained a long-distance relationship before he proposed to her after the U-20 World Youth Championship. Most Golden Generation players and friends appeared in a group photo with the newly weds.
Table of Tournaments:
[
]
Main article: World Youth Tournament

Manga chapters that cover BWY
[
]
The chapters named here are how they were ordered and named in the original tankobon and in the 2006 SJR. The Bunko, SJR and other versions may use a different chapter page length and name depending on the edition. Chapter number and name in the original tankobon has priority over other versions. For stories published outside the original Captain Tsubasa manga, the order established in 2006 SJR has priority over other versions.
| No. | Chapter name |
| --- | --- |
| SS | "Saikyo no Teki! Holanda Youth" (最強の敵! オランダユース) |
| 1 | "Shingo Aoi's appearance!" (葵新伍登場! の巻) ["Prologue 1: Shingo Aoi, Principe del Sole"] |
| 2 | "At the door of Inter" (インテルへの扉! の巻) |
| 3 | "Time of trial!!" (試練の時!! の巻) |
| 4 | "Full throttle Shingo!" (全開新伍! の巻) |
| 5 | "Prologue and beginning!!" (序章-そして開幕へ!! の巻) |
| 6 | "Tsubasa Ozora, I'm alright!" (大空翼 元気です! の巻) ["Prologue 2: Soccer Cyborg Santana"] |
| 7 | "Child of God, Santana" (神の子サンターナの巻) |
| 8 | "Santana starts!" (サンターナ始動! の巻) |
| 9 | "From Bara to Santana" (バーラからサンターナへの巻) |
| 10 | "Aiming for glory" (栄光をめざしての巻) ["Chapter of the Asian Youth Championship"] |
| 11 | "Ryoma Hino's appearance!!" (火野竜馬登場!! の巻) |
| 12 | "The Young Noble returns alive, the insurrection of the Young Lion" (貴公子の生還、若獅子の反乱の巻) |
| 13 | "The pride of a man" (誇り高き男の巻) |
| 14 | "RJ7's Entry" (R・J・7登場の巻) |
| 15 | "Furious offense and defense!!" (激しき攻防!! の巻) |
| 16 | "Build the best team of the world!" (世界一のチームを作る!! の巻) |
| 17 | "The Fierce Tiger's departure" (猛虎の旅立ち!! の巻) |
| 18 | "In Sao Paulo" (サンパウロにての巻) |
| 19 | "Start facing the dream!!" (夢に向かってスタート!! の巻) |
| 20 | "Fight with your heart" (気迫で闘え!! の巻) |
| 21 | "Overturn the speculations" (下馬評をくつがえせ!! の巻) [Only in magazine and the first tankobon edition since in other versions the chapter is divided in two parts, the first "Decisive battle eve!!" (決戦前夜!! の巻) and keeping the original chapter name] |
| 22 | "Tsubasa vs. Bunnag" (翼VS.ブンナークの巻) |
| 23 | "Send it to Tsubasa!!" (翼につなげ!! の巻) |
| 24 | "SGGK" (S・G・G・K!! の巻) |
| 25 | "Clash between willpower and willpower" (意地と意地の激突!! の巻) |
| 26 | "The laurels are above you!" (栄冠はきみの上に! の巻) |
| 27 | "Get a new special shoot" (新・必殺シュートをつかめ! の巻) |
| 28 | "The completion of the new special shoot!" (新・必殺シュートついに完成! の巻) |
| 29 | "Soldiers who grow up" (成長した戦士たちの巻) |
| 30 | "The force of the ship named Real Japan!!" (リアル・ジャパン丸の実力!! の巻) |
| 31 | "Those who we can rely on!" (頼れるヤツら! の巻) |
| 32 | "The genius Owairan" (天才オワイランの巻) [only in magazine and the original tankobon edition since it was renamed to "Rivals looming!" (立ちはだかるライバル達! の巻) in other versions] |
| ES | "Principe del Sole: Challenge to Gullit, the way to the completion of the Right Angle Feint" (太陽王子 グーリットへの挑戦 直角フェイント完成への道! の巻) [This chapter was published in magazine as part of Principe del Sole alongside a regular World Youth Hen chapter] |
| 33 | "Sight of the Raiju Shoot!!" (雷獣シュート見参!! の巻) |
| 34 | "Moment of victory!!" (勝利の瞬間!! の巻) |
| 35 | "Decisive battle!" (決戦! の巻) [in newer editions, the chapter is divided in two, the first half in a chapter called "Shingo, the spy!" (新伍、偵察す! の巻) and the second in another chapter with the original name] |
| 36 | "China Youth's counterattack!"(中国ユースの逆襲! の巻) |
| 37 | "The light inside the predicament!" (窮地の中の光! の巻) |
| 38 | "Moment of victory and miracle!!" (勝利と奇跡の瞬間!! の巻) |
| 39 | "The man who comes back!" (帰ってきた男! の巻) |
| 40 | "The conclusion of the goal keeper Wakashimazu!" (GK若島津の結論! の巻) |
| 41 | "The start of the newborn All Japan!!" (新生 全日本始動!! の巻) |
| 42 | "The door towards the dream!!" (夢への扉!! の巻) |
| 43 | "Glory... and!!"(栄光…そして!! の巻) |
| 44 | "The new barrier!!" (新たなる障壁!! の巻) ["Asian Youth Championship -Epilogue- Rest of the warriors (Homecoming)"] |
| 45 | "The field Of dreams!!" (夢の舞台!! の巻) ["Chapter of the World Youth -Prologue- World Youth held in Japan"] |
| 46 | "The soldiers' decision!" (戦士たちの決意! の巻) |
| 47 | "The oath to Misaki!!" (岬への誓い!! の巻) |
| 48 | "The reason of the tears" (涙の理由の巻) |
| 49 | "Reunion with old enemies!" (宿敵との再会! の巻) |
| 50 | "Prologue to the fierce fight!!" (激闘へのプロローグ!! の巻) |
| 51 | "On the field...!!" (フィールドの中に…!! の巻) |
| 52 | "The entrusted ball" (託されたボール!! の巻) |
| 53 | "Because I like it...!!" (好きだから…!! の巻) |
| 54 | "Proof of progress!!" (成長の証!! の巻) [only in the first tankobon edition since in other editions it is two chapters, the first one called "The amazing Uruguay Youth!!" (驚異のウルグアイユース!! の巻) and the other keeping the other name, while in magazine the original chapters were three] |
| 55 | "Advancing to the final tournament!" (決勝トーナメント進出! の巻) |
| 56 | "Only one wing!" (片方だけの翼! の巻) |
| 57 | "True colours of the Sweden team!" (スウェーデンチームの正体! の巻) |
| 58 | "Successive attacks of the Midnight Sun!" (白夜の波状攻撃! の巻) |
| 59 | "The new fearful strategy!"(恐怖の新戦術! の巻) |
| 60 | "The imaginary shoot" (幻のシュートの巻) |
| 61 | "The strong Brazil!" (強者・ブラジル! の巻) |
| 62 | "Betting for the place of best in the world!" (世界一の座をかけて! の巻) |
| 63 | "V Goal!!" (Vゴール!! の巻) [only in the first tankobon edition since in other editions it is two chapters, the first one called "Exceed Roberto!!" (ロベルトを超えろ!! の巻) and the other keeping the original name, while in magazine there were eight chapters originally] |
| 64 | "Everyone's future" (それぞれの未来の巻) ["Epilogue". This chapter was not published in magazine] |
Notes
[
]