Captain Tsubasa: Rise of New Champions (キャプテン翼 RISE OF NEW CHAMPIONS) is a game developed by Tamsoft and published by Bandai Namco Entertainment for PlayStation 4, Nintendo Switch and PC (Steam).
The game was released on August 27 in Japan and in August 28 worldwide in 2020, with Japanese voice-overs and subtitles in nine languages (Japanese, English, Spanish, Italian, French, German, Arabian, Portuguese, and Chinese).
A new Captain Tsubasa game is here, ten years after the release of the previous console game! Captain Tsubasa is a manga masterpiece, globally beloved even now in 2020. The new console game will be released as an arcade football game. Everyone can enjoy exchanging super plays against rivals with up to date graphics!
The game, as told by game producer Katsuaki Tsuzuki, has two-story modes: The first one is Episode of Tsubasa, and the second one is Episode of New Hero.
| Tsubasa | New Hero |
| --- | --- |
| | |
In Episode of Tsubasa, things will stay true to the original material. In this mode, the player follows Nankatsu Middle School through the National middle school tournament, facing Otomo, Hanawa, Azumaichi, Hirado, Furano and Toho.
In Episode of New Hero, the focus is on the new U-16 World Cup. George Cardinal, founder of a global IT company, becomes a sponsor for a new tournament — the "Junior Youth World Challenge", meant to be held in the United States, which also has its own U-16 team. That being said, according to producer Katsuaki[1]: "we still wanted the player choices to be meaningful, that's why we implemented different ramifications that can slightly change the original story, depending on the player's actions". Other teams such as Ismail Senghor's Senegal, and Brian Cruyfford's Netherlands will also make an appearance. According to the game analysis, the victories and defeats will count when it comes to unlocking and influencing the events of the story, which will allow a much more varied development than usual games based on anime licenses.
In this mode, players can create an original character, who is a first-year at either Musashi, Furano, Toho or Otomo. Each of the four available schools has their own fully voiced storyline as they play through the Junior Hero League to determine members of the Japanese team that plays at the tournament. After a one-half intra-squad scrimmage, the team plays six league games. Opponents for the first three games may be Minamiuwa, Meiwa Higashi, Hanawa, Hirado and/or Azumaichi, while the last three opponents are the other two available schools and then Nankatsu. At the World Junior Youth Challenge, Japan then has scrimmages against Germany (with only the second half playable) and then either England or Uruguay before group stage games againt Italy, the Netherlands and Senegal, followed by a quarterfinal against Argentina, a semifinal against France and then the final against either Germany (the regular route, which is the only one available on the first playthrough), Brazil or the United States.
This is a series of web novel that serves as the prologues of various U-16 national teams participating in the Junior Youth World Challenge: United States, Senegal, France, Italy, Germany, Brazil and Japan.
| Schools | Schools | U-16 teams | U-16 teams |
| --- | --- | --- | --- |
| | | | |
Eventual 9 players to be released in 3 waves were announced as downloadable content and may be befriended in Episode of New Hero in order to learn Moves and Skills.[3]
Each player has 5 stats as follows:
Offense – Affects all offensive attributes and also lengthens Dribble Moves, making them more likely to connect with an opposing defender and thus minimizing the chance the dribble misses and leaves the dribbler vulnerable.
Defense – Affects all defensive attributes.
Power – Affects Dribbles and Tackles that scale with Power. Also affects shot power and thus the effectiveness of Shots with a Power scaling – typically those with Straight and Drive trajectories.
Technique – Affects Kick Gauge charge speed and Dribbles and Tackles that scale with Technique. Also effects effectiveness of Shots with a Technique scaling – typically those with non-Straight trajectories like Drive or Special – making them more likely to bypass opposing goalkeepers.
Speed – Affects movement speed and Dribbles and Tackles that scale with Speed.
After each game in Episode: New Hero, players are rated on their Shooting, Dribbling, Passing, Tackling, Blocking and Intercepting, and their results determine how much their attributes grow. They may also obtain conversation scenes and new Moves (including signature moves) and Skills by appealing to both teammates and opponents and increasing Friendship Rank. The team as a whole is also rated, which determines teammate growth.
After each Episode: New Hero game, the Juniors' Gauge is also increased based on results. Filling it grants a large amount of Bonus Ability Points that can be spent however the player wishes and also grants the character a Training Skill that can boost growth (for example, Relentless Attacker, which increases the Ability Points earned when the team wins by at least 3 goals). The gauge has different names and conditions for Successes and Great Successes based on the created character's school:
Friendship Ranks & Missions
[
edit
|
edit source
]
As a general rule, obtaining higher-level Moves and Skills requires Appeal Missions, which involve both a certain Friendship Rank with a character and fulfilling another condition such as recording a high rank in a certain category a number of times with that character. Furthermore, obtaining characters' best techniques such as Tsubasa's Neo Drive Shot require Special Missions involving both both very high (if not S) Friendship Rank and completing a specific challenge in a match.
Before each match except the first intra-squad scrimmage in Episode of New Hero, available players are randomly arranged into a number of groups of 5, with some players appearing in more than one group. Players then select one group to appeal to, and Friendship Points that can increase Friendship Ranks are gained based on overall performance.
By rule, players may shuffle a set number of times (or by restarting the game without selecting a group, which may be done indefinitely) to get the players they want to appeal to. Also, depending on the school chosen, the captain has an appeal ability that may be used a set number of times – for example, on the Musashi Route, Misugi's Analysis allows the player to swap out one player in the chosen group for a player that is not already in the group. Players are also automatically able to appeal to players from their school and players who share their position (defender/midfielder/forward) but may also choose 5 players to include specifically before both the Junior Hero League and the Junior Youth World Challenge. This allows players to either ensure characters are more available or to appeal to characters who are not from their school and do not share their position (and therefore would not be available otherwise).
Players are also rewarded for picking characters with shared histories, backgrounds or traits in the same group. These are known as Appeal Combinations and multiply the Friendship Points earned. A few examples are below.
In Episode of New Hero, there are a set of challenges known as Story Challenges that offer rewards such as extra Play Points that players can use for Friendship Cards, training items or customization parts like boots, hairstyles and emblem parts. Some also produce guaranteed cinematic goals or saves and some will even allow characters to learn Super Shots.
Story Challenge List
No.
Match and Opponent
Starring Allies
Starring Opponents
Starring Neutrals
Description
Conditions
Rewards
3
2nd Group Stage match vs. Netherlands
Jun Misugi
Ken Wakashimazu
Tsubasa Ozora
Taro Misaki
Brian Cruyfford
Johan Rensenbrink
Ruud Klismann
Leon Dick
None
Getting to play against his idol's country, Misugi takes on the player who inherited his idol's number.

Trigger a cutscene with Cruyfford during the match.
Use Full Power Play in the second half while the game is tied.

5
3rd Group Stage match vs. Senegal
Hikaru Matsuyama
Tsubasa Ozora
Kojiro Hyuga
Makoto Soda
Ismail Senghor
Moussa Malick Diallo
Diarra
Sow
None
Seeing Senegal rally around Senghor, Matsuyama is reminded about Furano rallying around him and each other and draws inspiration.

Score in the second half.
Get Matsuyama the ball while Senegal is using Raging Whirlwind.

8
Semifinal vs. France
Shun Nitta
Hanji Urabe
Jean
Amoro
None
With the stakes hardly able to get any higher, the two Otomo representatives for Japan reprise a trick from the Shizuoka Regional Finals against Nankatsu with a twist.

Have both Nitta and Urabe in the game at the end of the first half of extra time.
Get Urabe the ball in the defensive third while France is using Conqueror.

Cinematic goal
1200 P
"Sonic" Title

10
Final vs. Germany (Normal Route)
Teppei Kisugi
Hajime Taki
Mamoru Izawa
Deuter Muller
Hermann Kaltz
Karl Heinz Schneider
Cornelius Heine
Johan Rensenbrink
Gert Keizer
Ruud Klismann
The Shutetsu Trio's famed teamwork is put to the ultimate test, with optional coaching from Dutch counterparts.

(Optional) Trigger an Extra Event with Kisugi, Taki, Izawa, Rensenbrink, Keizer and Klismann by increasing Friendship Ranks quickly with some or all of them.
Have Kisugi and Taki score once each with Izawa assisting.

11
Final vs. Germany (Normal Route)
Yuzo Morisaki
Karl Heinz Schneider
Gino Hernandez
Frustrated with not being up to Wakabayashi and Wakashimazu's level, Morisaki gets tough coaching from Hernandez and uses it to redeem himself from an earlier scrimmage.

Trigger an Extra Event with Morisaki and Hernandez by increasing their Friendship Ranks quickly.
Schneider has the ball in the defensive third.

Cinematic save
1600 P
"Doomsday" Title

12
Final vs. Brazil (Brazil Route)
Kazuki Sorimachi
None
Manfred Margus
Franz Schester
Struggling to find his place in the team as he finds himself playing with and against more skilled players, Sorimachi gets coaching and inspiration from Margus and Schester, who often find themselves in complementary roles.

Trigger an Extra Event with Sorimachi, Margus and Schester by increasing their Friendship Ranks quickly.
Have Sorimachi assist twice and score once or assist three times in the final.

19
Final vs. United States (America Route)
Ken Wakashimazu
Blake Martin
Keizinho
Wakashimazu bonds with Keizinho over martial arts training and uses what he learns to redeem himself from an earlier scrimmage.

Trigger an Extra Event with Wakashimazu and Keizinho by increasing their Friendship Ranks quickly.
Blake has the ball in the defensive third.

Cinematic save
1600 P
"Clincher" Title
Main article: Captain Tsubasa: Rise of New Champions/Gallery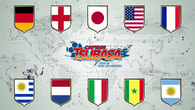 According to Katsuaki's answer to 3DJuegos[1], it is not certain if Spain will be added to the game since, at the moment, it is only confirmed that the game will feature only the ten confirmed national teams for the Junior Youth World Challenge. But, anything is possible in the future depending on community feedback, and Bandai Namco will try to see it happen, depending on game reception.

Wave 1 DLC later confirmed the possibility of adding players without adding their national teams, as Levin, Bunnag and Espadas were all added without adding Sweden, Thailand or Mexico.

The design style will have some reminiscent of Takahashi's manga, but the color palette will be truthful to the 2018 TV series, including the multicolor spikes from some major characters.
Community content is available under
CC-BY-SA
unless otherwise noted.