Captain Tsubasa Best 11
Front cover
Released
1993-10-21
Type
Compilation/drama album
Artist(s)
Hiroyuki Okita, Yoko Ogai, Captain Tsubasa Ouendan, Eiko Yamada, Hirotaka Suzuoki, Chika Sakamoto, Kenyu Horiuchi, Takayuki Takemoto, Koichi Hashimoto
Composer(s)
Unknown
Label
Sony Records
Catalog no.
SRCL-2768
Media
1 CD
Tracks
12
Captain Tsubasa Best 11 (キャプテン翼 ベスト11) is a compilation album of theme songs from the TV series. It also includes a drama track. This CD was originally released on 1993-10-21.
Tracks
[
]
"Moete Hero" (燃えてヒーロー) (performed by Hiroyuki Okita) <1983 version>
"Ozora Tsubasa ga Utau" (大空翼が歌う) [in reality "Asu ni Mukatte Shoot" (明日に向ってシュート)] performed by Yoko Ogai
"Fuyu no Lion" (冬のライオン) (performed by Hiroyuki Okita)
"Tsubasa yo Hashire! Captain Tsubasa Ouenka" (翼よ走れ! -キャプテン翼応援歌-) (performed by Captain Tsubasa cheering squad)
"Yuujou Forever" (Misaki Taro no Theme)]] (友情フォー・エバー(岬 太郎のテーマ)) (performed by Eiko Yamada)
"Captain Tsubasa Oendan no Uta" (キャプテン翼応援団のうた) (performed by Captain Tsubasa cheering squad)
"Ball wa Tomodachi" (ボールは友だち) (performed by Yoko Ogai)
"Kouya no Sakebi (Kojiro Hyuga no Theme)" (荒野の叫び(日向小次郎のテーマ)) (performed by Hirotaka Suzuoki)
"Kaze ni Nare" (風になれ) (performed by Yoko Ogai (voice of Tsubasa Ozora), Eiko Yamada (voice of Taro Misaki), Chika Sakamoto (voice of Sanae Nakazawa), Hirotaka Suzuoki (voice of Kojiro Hyuga), Kenyu Horiuchi (voice of Hajime Taki))
"Longest Dream" (ロンゲスト・ドリーム) (performed by Chika Sakamoto) <This version has a slightly different intro from other compilations, with voices from the anime>
"Moete Hero" (燃えてヒーロー) (performed by Takayuki Takemoto) <1985 version>
"Chuugakusei Hen: Mezase, 3 Renba" (中学生編 めざせ、三連覇) <Drama>
Gallery
[
]
Sondtracks
[
]
Moete Hero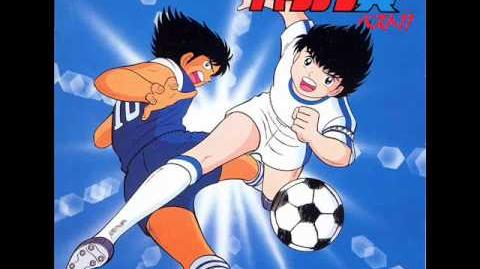 Fuyu no Lion
Yuutou Forever
Kouya no Sakebi
Longest Dream
Moete Hero (1985 version)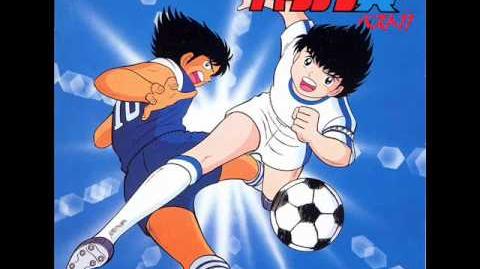 Chuugakusei Hen Mezase, 3 Renba
External links
[
]