Captain Tsubasa 2: Super Striker (キャプテン翼II スーパーストライカー, kyaputen tsubasa II sūpā sutoraikā) is the sequel to the 1988 videogame Captain Tsubasa (FC).
Description
[
]
It drastically improved the concepts from the first game. By this time, the original manga had already finished and as such, the game featured an original new story, starting after the three-year time skip just like in the future prologue of the World Youth Hen manga.
As noted at the end of Tecmo Cup Soccer Game (NES) it was hinted that this game would be released in the USA, but that never happened.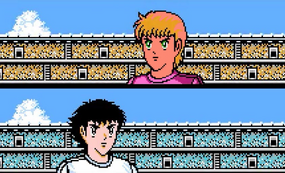 Featured characters
[
]
Opening
[
]
External links
[
]