Olympic Japan redirects here. For the U-22 team, see U-22 Japan. For the national team, see Japan.
Olympic Japan (日本オリンピック代表, Nippon Orinpikku Daihyō), also known as U-23 Japan (U-23日本代表), is the team that represents Japan in the Madrid Olympics tournament.
Olympic Japan, previously known as U-23 Japan, was known as the official selection team starting from Rising Sun, chapter 7. It consists of 18 squad members[1], 4 backup members and 1 assistant back member. The captain is Tsubasa Ozora.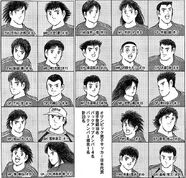 New Formation

Against the tall Margus and the strong Schneider from Olympic Germany, and due to Jito's injuries and Misugi's less good physique for this game, the formation was greatly changed to a 4-4-2.
This formation has the particularity of including as starters the newcomers Igawa and Soga for the first time in the defense and Misugi has being changed position to the right side (he is no longer the libero). Now Matsuyama has being changed as midfielder with Tsubasa as center pivot, and Aoi and Misaki for the sides. This time, the tall Wakashimazu is replacing the fast Nitta as two-top with Hyuga.
Main article: Olympic Japan/Gallery

Community content is available under
CC-BY-SA
unless otherwise noted.