Olympic Japan redirects here. For the U-20 team, see Japan Youth. For the U-22 team, see U-22 Japan. For the national team, see Japan national football team.
Olympic Japan (日本オリンピック代表, Nippon Orinpikku Daihyō) is the team that represents Japan in the Madrid Olympics Tournament.
Description
Edit
Olympic Japan is a team which consists of 18 squad members[1], 4 backup members and 1 assistant back member. The captain is Tsubasa Ozora.
Practice matchesEdit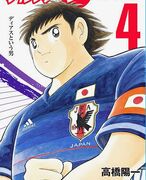 Group stage
Main squad
Edit
No.
Pos.
Player
Nat.
1
GK
Genzo Wakabayashi
2
DF
Gakuto Igawa
4
DF
Ryo Ishizaki
5
DF
Hiroshi Jito
6
FW
Hajime Taki
7
DF
Makoto Soda
8
MF
Mamoru Izawa
9
FW
Kojiro Hyuga
10
MF
Tsubasa Ozora
11
MF
Taro Misaki
12
MF
Hikaru Matsuyama
13
FW
Kazuki Sorimachi
14
DF
Jun Misugi
15
MF
Takeshi Sawada
16
MF
Mitsuru Sano
17

FW

[2]
Ken Wakashimazu
18
FW
Shun Nitta
19
FW
Teppei Kisugi
20
MF
Shingo Aoi
21
GK
Yuzo Morisaki
22
DF
Yuji Soga
23
DF
Hanji Urabe
24
FW
Kazumasa Oda
New Formation

Against the tall
Margus
and the strong
Schneider
from
Olympic Germany
, and due to
Jito
's injuries and
Misugi
's less good physique for this game, the formation was greatly changed to a 4-4-2.
This formation has the particularity of including as starters the newcomers Igawa and Soga for the first time in the defense and Misugi has being changed position to the right side (he is no longer the libero). Now Matsuyama has being changed as midfielder with Tsubasa as center pivot, and Aoi and Misaki for the sides. This time, the tall Wakashimazu is replacing the fast Nitta as two-top with Hyuga.
↑ Wakashimazu now acts as an exclusive forward.
External links
Edit