Real Madrid Club de Fútbol or Real Madrid (レアル・マドリードCF, rearu madorīdo CF) is the famous team and rival of FC Barcelona in "El Clasico" from the Spanish Liga whose stadium is Santiago Bernabeu Stadium.
Description
Edit
Real Madrid first appeared in Road to 2002 manga and was the main team antagonist in the Overseas Fierce Fights - La Liga arc. The team captain is Blueno.

World Youth (1994) (epilogue)

Home: White collared shirt with purple collar and purple trim on the sleeves, purple shorts and white shorts. The sponsors are Teka and Kelme. This uniform was used by Real Madrid in the 1997 season in real life.
Road to 2002/Overseas Fierce Fights

Home: White collared shirt with three black stripes on sleeves, white shorts with three black stripes and white socks The sponsor is Adidas.This uniform was also used in Golden-23 and Kaigai Gekito Hen in Liga. This uniform was used in the 2001 and 2002 seasons by Real Madrid in real life.
Home (flashback): White shirt with grey collar, three grey stripes on sleeves and grey shoulder stripes, white shorts with three grey stripes and white socks. The uniform seems based on the uniform worn by Real Madrid in the 1998 season, albeit with grey replacing navy blue due to authoral rights.
It is unknown which name was given to Real Madrid in the 2001 anime, as Blueno was the only player who appeared, during Rivaul's flashback.
Former players
Edit
Current squad
Edit
Guest characters
Edit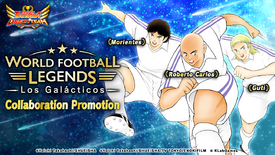 In Captain Tsubasa: Tatakae Dream Team, three former real-life players of Real Madrid appear as guest stars.
Community content is available under
CC-BY-SA
unless otherwise noted.