For his counterpart, see Robson (RoNC).
Robson (ロブソン, robuson) is the giant defender of England.
Description
[
]
He first appeared in Captain Tsubasa ch.92 "Perfect Come Back! Golden Combi". He wears the jersey #6 for England and is the captain of England Jr. Youth.
Etymology
[
]
He is based on Fulham and West Bromwich Albion player and manager Sir Robert "Bobby" William Robson. (Although, interestingly, Sir Bobby Robson was an inside forward, which would be analogous to an attacking midfielder in the hole or a second striker, not a defender.). On the other hand, his name can be also a reference to Bryan Robson, who, like Robson, was the captain of the England national team.
Biography
[
]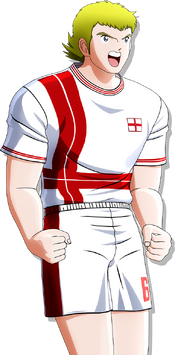 Junior Youth Tournament'
England's first match in the tournament is against France Jr. Youth. France's players aren't moving well, as the English players have pressure on them despite playing in Paris. Also, England has carefully studied them. Pierre soon creates a chance for the forward Borghi, but the latter misses it.
After that, England manage to score first. Pierre later has a chance to shoot, but Robson blocked the shot. Only after Louis Napoleon gets in that France regain their form, scoring the first goal after 5 minutes. At the end, the match ends 1-3, where Napoleon has scored a hattrick with Pierre being the one doing all three assists.
Even though they won the next match against Malaysia, they couldn't qualify to the next round.
Robson appears as a former member of U-21 England —whose team was not able to classify for the Madrid Olympics Tournament— watching the match between Olympic Japan and Olympic Germany.
Gallery
[
]
Main article: Robson/Gallery

Trivia
[
]
External links
[
]