For other versions of the character, see Ryo Ishizaki (Tecmo) and Ryo Ishizaki (RoNC).
Ryo Ishizaki (石崎 了, Ishizaki Ryo) is a major character in the Captain Tsubasa manga series.
Description
[
]
Ishizaki is introduced as the captain of the until then very unsuccessful Nankatsu elementary school team. He is one of the moral pillars of the grade school team and the Japan team. For Japan, he usually wears the jerseys #14 or #4.
Biography
[
]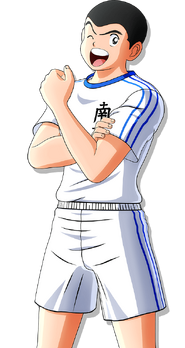 At first, he is not as good at football as the other players, prone to errors. This clumsy personality was even reinforced in the 1983 anime, but in later series, specially the 2018 anime, we can see that Ishizaki can make up for every mistake with his guts - at his nickname clearly states - and has grown up to win his place as a regular in Japan Jr., a feat recognized by both Tsubasa and the Nankatsu gang at the end of the 16th national tournament.
Despite not having a special shot or dribble skills, his extra efforts on-field are compared to those of Matsuyama in terms of teamwork and strategy sense gained due to pure training. In Nankatsu Public, Ishizaki progressed much and became the captain of the football team.
During the Madrid Olympics tournament, Ishizaki's overlaps are even more decisive, his individual technique improved to the point he can dodge and outsmart opponents, he helped in scoring important goals, even an assist is credited to him.
Personality
[
]
Ishizaki is Tsubasa's first friend in Nankatsu and known for his gutsy, cheerful and straight-forward personality. In words of Tsubasa himself, he was the reason why he did not leave Nankatsu for entering Toho Academy. Much like Misaki & Wakabayashi, he can lift up Tsubasa when the latter is down. He has also some comic-relief moments, specially in the anime. He tends to have quarrels with both Urabe and his girlfriend Yukari due to their explosive personalities.
Trivia
[
]
His name is Bruce Harper in the Latin American dub and in some European countries.
Ishizaki's friendship is the reason why Tsubasa refused Toho's scholarship proposal in the Kids' Dream arc.
He's one of Takahashi's favorite characters since he's "easy to draw" (likely due to his haircut).
He made a cameo appearance in Rosario + Vampire (Episode 5).
Techniques
[
]
Main article: Ryo Ishizaki/Techniques

Gallery
[
]
Main article: Ryo Ishizaki/Gallery

External links
[
]