For the Tecmo counterpart of this character, see Shingo Takasugi (Tecmo).
Shingo Takasugi (高杉 真吾, Takasugi Shingo) is a huge Defender of Japan.
He is a defender which first appeared in the original manga. He first wears the jersey #6, then the jerseys #14 or #27, depending on the Japanese selection team he's chosen to play for.
Takasugi is part of the Shutetsu quartet and Nankatsu, and has being one of Nankatsu's main defensive in the tournaments. He currently plays for Sanfrecce Hiroshima. He is regularly selected in most teams representing Japan.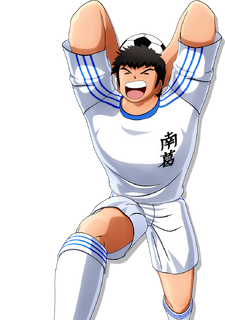 In elementary school, Takasugi was the sweeper of Shutetsu, the best soccer team in Nankatsu city, then he was part of Nankatsu SC, winning the 6th Yomiuri Land tournament. After that, and because of the suggestion of Genzo Wakabayashi to his former Shutetsu teammates, he got enrolled to Nankatsu middle school, and became a regular of their soccer team in the 2nd year. Takasugi also has a good vision because he was the only one to notice that Tsubasa's leg was injured in the match against Azumaichi middle school. He was of great help with Ryo Ishizaki in order to stop twice Hyuga's Tiger Shot while Tsubasa was recovering from his injuries during the final match of the National Middle School tournament.
He was among the best members of the middle school tournament and was selected in the All Japan Jr. Youth. Although being among the starters at first, he remained on the bench throughout the tournament.
In the World Youth, he was part of All Japan Youth and played all the matches of the first round of the Asian preliminaries.
In Road to 2002, he joined the pro club Sanfrecce Hiroshima and makes the decisive pass that allowed the club to beat Shimizu S-Pulse.
Main article: Shingo Takasugi/Techniques

Main article: Shingo Takasugi/Gallery
He is known as Victor Denver or Ulises (in some episodes) in the Latin American dub and Bob Denver in some European countries.
Community content is available under
CC-BY-SA
unless otherwise noted.