For other versions of the character, see Takeshi Sawada (Tecmo) and Takeshi Sawada (RoNC).
Takeshi Sawada (沢田 タケシ, Sawada Takeshi) is one of Japan's players and part of the Japanese New Golden Age. He usually wears the jersey #15.
Description
[
]
Despite being two years younger than most of Golden Generation[1], Sawada has good dribble techniques and feints. He has played as substitute midfielder in Japan Jr. and Japan Youth. In Golden-23 arc, he has also being the captain of U-19 Japan.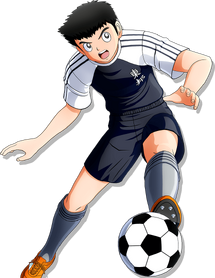 Appearance
[
]
In the 2018 anime, by the time he reaches Hyuga's final year of middle school, he wears orange cleats, which complement Hyuga's red cleats, and also contrast with Taro Misaki's light blue cleats. He started off as a left-footed player, but two years later, he is able to fire crosses with either foot.
Biography
[
]
Takeshi is Hyuga's partner in Meiwa FC. Trained by coach Kira as well, despite his young age (4th grade when he made his debut for the team against Nanbu FC) he's very talented. He has the utmost respect for Hyuga, and is helping him to the best of his abilities when he has troubles, though he doesn't hesitate to point out his mistakes. Takeshi was also vice captain.
Without Hyuga in Meiwa, Sawada lost the national championship to Nitta. Joining Toho Academy after Hyuga and Wakashimazu, he played a more important role as Toho's coach Makoto Kitazume didn't allow Hyuga to play. Trying his best to match Tsubasa as a playmaker who can score, he had troubles against his former teammates from Meiwa, but eventually won against them with the precious help of Sorimachi and Wakashimazu. He was among the best players of the tournament and thus, was selected in the All Japan Jr. Youth team, despite his young age.
Entering high school, Sawada was still in Toho with Hyuga and Wakashimazu, and was also selected in the All Japan Youth team. He played the match against Uruguay in the World Youth.
Sawada eventually became a pro by joining the Urawa Red Diamonds, playing with the best libero of Asia - Igawa Hayato. He then became the captain and playmaker of U-19 Japan and lead them to the final match of the AFC Youth Championship, where he learned to trust his teammates more like Tsubasa. He later joined Olympic Japan for the Asian preliminaries, where his playmaking abilities would come in handy.
Techniques
[
]
Main article: Takeshi Sawada/Techniques

Gallery
[
]
Main article: Takeshi Sawada/Gallery

Trivia
[
]
His name is Ralph Mellow in the Latin American dub and Danny Mellow in some European countries.
He makes cameo appearances in episode 5 of Rosario + vampire.
External links
[
]