Tomeya Akai (赤井 止也, Akai Tomeya) is a defender from Japan.
He first appeared in Battle of World Youth arc. He is a player with an excellent marking ability. He is now playing for UC Sampdoria in Italy's Serie A. He wears the jerseys #26 and #23.
Ruud Gullit had the assistance of Akai Tomeya, a defender playing for Sampdoria Primavera, who served as interpreter for him. Here, Gullit met Shingo Aoi, who wanted to learn his technique, the Double Right-Angle Feint. He told Aoi how to do it, and Akai was offered as an opponent to test the new technique. Aoi got past Akai with this new technique easily. Akai and Aoi became friends, and met again in Italy during a match between Inter Primavera and Sampdoria Primavera, in which Aoi won again thanks to team play. After the match he was urged by Aoi to join Japan Youth.
His debut took place in the quarter-final against the formidable Swedish team led by Stefan Levin, one of the "Four knights of the midnight sun", replacing Hikaru Matsuyama, since Matsuyama's fiance, Yoshiko Fujisawa was involved in a traffic accident. Akai was given the job of marking Levin; despite being a newcomer, he performed very well, denying most of Levin's chances to shoot (also helped by the fact that the Swedish players didn't know anything about him and couldn't predict his gameplay). However, in the second half, he blocked several Levin Shots at point-blank range, suffering bad injuries to his stomach, shoulder and head. Still, his courage and his enthusiasm ensured his recognition as a legitimate member of the team and gave a good rhythm to the team's defense. His actions also helped Levin realize how wrong his soccer was, symbolized by his act of kicking the ball out of the side line so that Akai could receive treatment, instead of taking advantage of a unique goal chance.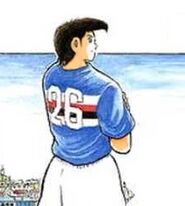 He makes a brief appearance in the Road to 2006 special epilogue chapters.
During the Gold 23 arc, he was mentioned as having helped Sampdoria's top team to get promoted to the Serie A. Unfortunately, he was injured in the process.
To be updated as series progresses.
Main article: Tomeya Akai/Techniques

Main article: Tomeya Akai/Gallery

Community content is available under
CC-BY-SA
unless otherwise noted.