This is a list of U-13 England/Minor characters appearing in the Captain Tsubasa (1983 TV series) and the 1985 Film series.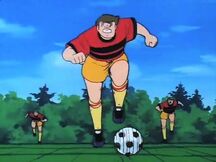 Defenders
Edit

Nicol (ニコル, nikoru) is a defender. He wears the number "9" jersey. Despite his tougher playstyle, he even uses a dirtier game than Steve or Richard, because he seeks to compensate for not being as strong built as his peers. Ishizaki has a comic moment on his confrontation to Nicol due to this.
Midfielders
Edit

Richard (リチャード, richādo) is an attacking midfielder. He wears the number "10" jersey.
As a midfielder, he has good dribble skills and follows his captain's orders, but Richard himself can organize the offensive if necessary. He was able to sense Steve's intentions when firing his bullet shot to Wakabayashi and then shots to goal when the ball escapes from the Japanese keeper and successfully shots on target.